Before we begin… I've decided to write this post and share my story with the gaming community after seeing and purchasing this amazing game bundle on Itch.io. These eleven developers, together, already helped to raise almost 50k dollars in five days for The Okra Project, and, with 15 more days ahead, I'm sure they'll help them even more.
Contribute too! All of the money goes to an amazing cause and you even get a fantastic bundle of games to explore different worlds, narratives, characters, and desires.
Go to Itch.io, get 14 amazing games, and spread some love today! 🙂
And now for my story…
I have a bachelor's degree in Game Design and I've worked with a few Brazilian game studios as Art Assistant, QA tester, project manager, and (later on) on the business side of things, as Game Licensing Analyst. Long story short, it wasn't a great experience for many, many reasons, so I quit the gaming industry and promised never to look back.
I continued to play games–alone–while I moved towards the world of design and writing. As my passion for storytelling solidified through my books, my roots in the gaming world led me to, once more, seek for this unique, active interaction we can only have in games.
In specific, my adult life led me to an old vice.
Visual Novels.
Visual Novels are a special genre of game that mix everything I'm absolutely passionate about: stories, illustrations, and interacting with narratives–in this case, through choices that can completely change your gaming experience.
Technically speaking, they're often a static background with drawings of characters (also called "sprites") on top. The text shows up as you click or tap, and sometimes you have options that may lead you to get closer to a character, to uncover the mystery behind an assassination, or, simply, to conquer the world–the possibilities are endless, just like in books.
Option screen in "Love Shore" by Perfect Garbage Studios.
Sure, some might be fancier than just static BG+character, but most are not. You might've understood my point already: visual novels are much more approachable to developers. Maybe because of it, marginalized developers have found in them a great way to express their voices. This means we're sure to find in Visual Novels three of the pillars I consider more important in the entertainment world: diversity, inclusion, and bravery.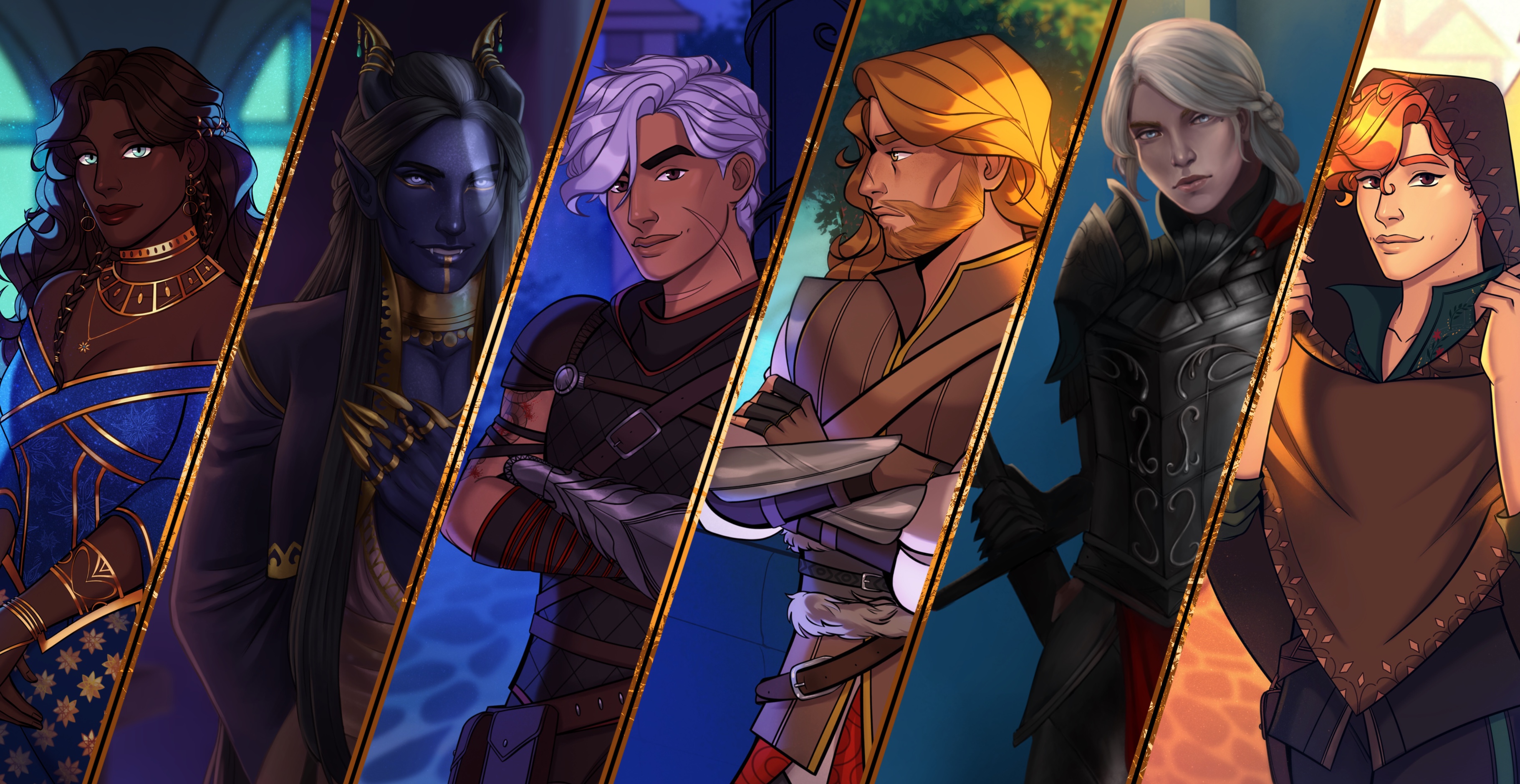 Characters from "Errant Kingdom" by Lunaris Games, also part of the bundle above. Two of them are non-binary; all of them are pan.
Like no other type of media in the entertainment industry, Visual Novels provoke and challenge. They question, poke, and cut deep with the visceral desire to express unheard or misrepresented voices. I've cried, laughed, and was drowned in thought with them. I've fell in love with games again.
But that's not all.
When I started to create my own visual novel and (admittedly very shyly) joined a community of Visual Novel creators, I saw how different this community is. Instead of seeing the toxic environment I was used to when I worked in games, I saw warm people who really just want to be heard, to tell amazing stories, and to create games.
I fell in love with this community and its members, and I thank them because now I actually feel myself represented in the gaming industry.
My heartfelt thank you to all the Visual Novel developers out there. And if you're a developer yourself, make sure to leave a comment with a link to your game, so I can check it out. ♥
Much love,
Ligia